Welcome to SRB Machines Private Limited
Established in 1996, SRB Machines Private Limited is into manufacturing of high-precision Machines i.e., CNC/Hydraulic Grinding Machines.
In the growing and expanding Industrial world, as the requirements have changed from conventional to CNC, SRB has also taken a step ahead with the techniques and skilled resources.
The Company not only use high quality techniques but also believes and gives an emphasis in the interest of small scale industries by their affordable pricing techniques.
SRB initially manufactures Multi Hole Drilling machine, which could drill one hole per second. This machine was used for fast and economical production which left a great impact of SRB in the piston industry. Afterwards, SRB start the development of machines for Engine Valve Industry, where different machines were used to cover various operations for manufacturing / completing the Engine Valves.
In 2004, the management restructured its manufacturing facilities and with their knowledge / professional experience, they developed CNC Cam Lobe Grinding Machine. "This technical development was appreciated and rewarded with CMTI-PMT Trust award".
SRB manufactures the following machines :-
ID Grinding Machines / Bore Grinding.
OD Grinding Machines / Cylindrical Grinding Machines
CNC Face and Groove Grinding – CNC Valve Seat Grinding
CNC OD & Chamfer Grinding – CNC Stem-End Grinding
Top End Drilling Machines
SPM's for grinding applications
These machines are equipped with Automatic Loading and Unloading System, which not only increase the production but also reduce the labour cost. These developments of higher efficiency are always appreciated by the Industry and are successful. 

A man who is a brawn and brain behind the SRB Machines Private Limited.
Being a qualified CA and CS, Mr. Surendra has decided to embark his entrepreneurship as SRB with his vast experience over the years in Machine Tool Industry and Finance.
He set up SRB in 1996 with a vision and mission to set up a benchmark for manufacturing Precision Cylindrical Grinding machines. Over the period of time, the company becomes the leading manufacturer for CNC / Hydraulic Cylindrical Grinding machines and Special Purpose Machines especially for Grinding Applications.
With a vision and mission to give new victorious dimensions to SRB with his knowledge and professional expertise in Mechatronics, Mr. Shrey has been an innovative and performance-driven Entrepreneur with a deep passion for technology and business. He has been associated with the Company since 2012. He constantly believes and gives emphasis on providing turn-key solutions to the clients, with a knack for devising novel strategies that ensure optimal utilization of technical resources to meet the client's business needs.
Mr. Ankit has more than 18 Years of rich and varied experience with different Machine Tool Industries in the field of Technical sales and Marketing. He has been associated with company since 2021. He is an experienced person with demonstrated skills and with proven strengths in relationship building and customer service. With his knowledge and experience, he has been contributing a lot in expansion of SRB in the Machine Tool Industry.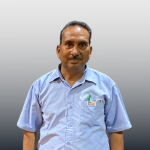 With an experience of more than 30+ years in production and technical operations, Mr. Gokul has been associated with SRB since the first foundation brick of the Company. He is an effective leader who excels at using lean manufacturing methods and cutting-edge technology to successfully streamline operations and increase productivity. He has been an asset to the Company throughout, who ensures to provide end-to-end solutions to the clients efficiently.